Everyone knows that lye is one of the best cleaning agents available in the market. It used for cleaning everything from cast iron cookware to relics to drains and fabrics. It is a heavy duty detergent that works great on any kind of dirty laundry you may have. Though caustic, when used in the form of detergents or laundry soaps, it is mild for handling. Lye laundry soaps make the best laundry soaps in the market owing to their strong alkaline properties. Too high a concentration of lye can harm your fabric. To avoid issues, you can make lye laundry soaps at home. When homemade, your laundry soaps will be soft to handle and use.

Homemade Lye Laundry soap recipes: Making laundry soaps at your home is incredibly easy and you will wonder why you didn't learn to make them earlier. Lye laundry soaps make enough lather to rise up the dirt and cleanse fabrics gently. However, to achieve this, you need to know to mix lye in the right proportions with the right ingredients. Below are a list of tested and proven laundry soap recipes with lye: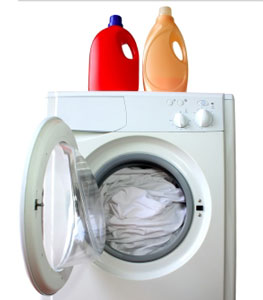 1. Tallow laundry soap: Beef fat or tallow is one of the best ingredients for making laundry soaps. It cleans well and is also soft on fabrics. Ingredients for the Tallow-Lye laundry soap include:
Rendered beef tallow (5 pounds)
13 oz of lye
Citronella oil
Household borax
Household bleach
Gallons of water
Render beef suet into fat and cool it overnight. Once you know the tallow is ready, start the soapmaking process. Melt fat in a stainless steel pot. Simultaneously, start making lye water by mixing lye with 7 cups of water. Ensure that you stir well to dissolve all the lye into the water. When the fat and  lye water are in the same temperatures (of 95 – 100 F), pour lye into fat slowly. Stir till the lye water blends with the fat and then, add 1 cup of household bleach and borax into the pot. You can also add citronella oil for enhanced laundry of your clothes. Indeed, any essential oil can be added to the soap mixture.
Keep stirring for several hours and leave overnight. You will see a chunk formation. You can use an old potato masher to break the chunks. When you find trace formation or a cottage cheese like consistency, dry the laundry soap on a waxed cooky sheet. Dry for about 5 days and you will find a massive block of lye laundry soap. If you are using an automatic washer, you cannot use this soap as such. For this purpose, run the soap through a blender or a food processor or a meat grinder and break it into flakes. You can also make bars if you do not want flaked laundry soap. This soap recipe gives you a laundry soap, not a detergent. It is pure, harmless and made of natural ingredients.
2. No fragrance laundry soap: If you are the type who cannot stand laundry soap or detergent fragrance on your clothes, this recipe is the best. Formulated by Elaine White, this uses the following ingredients:
16 oz coconut oil
2.8 oz lye
8 oz water
other soapmaking supplies
Make soap in the usual soapmaking process. Boil fat and coconut oil initially and then, mix lye water to  it at about 120 degrees F. Since this recipe has coconut oil as one of the ingredients, the estimated tracing time will be about one and a half hours. You can keep the soap in molds for about 48 hours and then, start using it after completely drying. This soap will have no fragrance nor display any harsh cleaning behavior. It is great for cleaning, washing dishes and laundry. Since coconut oil is involved it will produce great lather.